Text to Win!
The whole month of October!
Starting October 1st, text the word 'TOCS' to 55800 for your chance to win a $100 gift card and a chance to win a $500 gift card!
Join our Mobile Club for other offers and promotions! Just text the word 'OCS' to 55800
Sweepstakes Contest Rules:
NO PURCHASE NECESSARY. INTERNET ACCESS REQUIRED
MAKING A PURCHASE WILL NOT INCREASE YOUR CHANCES OF WINNING.
The Fall Text To Win Sweepstakes (the "Sweepstakes") is open to legal residents of The United States who are 18 years of age or older for an opportunity to win a prize, including a $500 American Express Gift Card. Void where prohibited.
Sweepstakes Period: The Sweepstakes will run from 12:00:01 AM October 1, 2014 until 11:59:59 PM on October 31, 2014 (the "Sweepstakes Period"). Participants will have the opportunity to enter once during the Sweepstakes Period. Winners may only win once during the Sweepstakes Period.
Eligibility:
Each entrant must be eighteen (18) years old or older. Employees and the immediate families of employees of Glimcher, its parent(s), affiliates, subsidiaries, advertising and promotion agencies, wholesale distributors, and individual retail tenants are ineligible. This Sweepstakes is subject to federal, state and local regulations. Taxes, if any, are solely the responsibility of the winner.
How To Enter: You can enter the Sweepstakes by submitting your entry by text message using the keyword to "55800" from your wireless SMS capable handset to receive one entry in the Sweepstakes. Limit one (1) entry per person. Sponsor's designated official judging organization's computer is the official time keeping device for this Sweepstakes. No other forms of entry are valid. In case of dispute as to the identity of any entrant, entry will be declared made by the authorized account holder of the wireless SMS capable handset submitted at time of entry. Any potential winner may be requested to provide Sponsor with proof that such winner is the authorized account holder of the SMS capable handset associated with the winning entry.
Applicants must comply with all contest rules and any applicable laws, including, but not limited to, copyright, trademark, and privacy laws. Entrants grant permission to Sponsor, or its authorized agents, to televise, use, modify, reproduce, distribute, display and exhibit the artwork submitted without compensation to the entrant(s), in any form or media.
Winner Selection: Winner will be selected randomly on or about November 5, 2014 from all eligible entries received prior to the end of the Sweepstakes Period and will be notified by text shortly thereafter. Winner may not substitute or transfer prize. The decision of Sponsor will be final and binding in all respects. Sponsor reserves the right to reject any entry which is deemed, in its sole discretion, to be inappropriate, offensive, defamatory, or demeaning to any of Sponsor's reputation or goodwill.
Sponsor: This Sweepstakes is solely sponsored by Glimcher and this property. This Sweepstakes is in no way sponsored, endorsed or administered by, or associated with, Facebook or other Website company. You understand that you are providing your information to Glimcher property and not to Facebook or other Website company. The information you provide will only be used for administering this sweepstakes.
Winner Notification: The potential winner will be notified via text on or after November 5, 2014. The potential winner must sign and return an affidavit of eligibility, a liability release and a publicity release within five (5) business days of notification. If the potential winner cannot be contacted for any reason or fails to timely sign and return the affidavit/release document, such potential winner will be disqualified and will forfeit the Prize and an alternate potential winner will be selected from among all remaining eligible entries received.
Prize: The Prize is $100 Gift Card to store of their choice. One entrant will win the Grand Prize of a $500 American Express Gift Card. All winners will be notified as to when and where to pick up their prize and which prize they will be awarded via text by November 5, 2014.
Total Approximate Retail Value of Prize: $100 OR $500 The award of the Prize in connection with the Sweepstakes may constitute income taxable under the Internal Revenue Code and under applicable state income tax laws. The potential winner will have the sole responsibility for reporting any such taxable income, and for paying any and all taxes in connection therewith to the Internal Revenue Service or other taxing authorities. The Prize is subject to availability and other, additional restrictions. All expenses related to acceptance or use of the Prize which are not specified in these Official Rules as well as any applicable taxes on prize are the winner's sole responsibility. No Prize transfer or Prize substitution shall be permitted. If the Prize or a part of the Prize is unavailable for any reason as determined by Sponsor at its sole discretion, Sponsor may substitute a Prize/Prize component of equal or lesser value.
Odds of Winning: Odds of winning depend on the number of eligible entries received. Winners will need to bring their photo ID to the Management Office at this Glimcher property before November 15, 2014. Prizes not claimed by this time will be forfeited. Winner may be required to complete, sign, and return an affidavit of eligibility and receipt and publicity release at the time of redemption. Any prize notification returned to Sponsor or its agencies as undeliverable would result in disqualification.
Conditions of Participation:
1. Entrants agree to abide by and be bound by these Official Rules and the decisions of Sponsor, which are final and binding in all respects and not subject to appeal.
2. Sponsor's agents and designees shall have complete discretion over interpretation of these Official Rules, and Sponsor reserves the right, in its sole and absolute discretion, to disqualify any entry submission that violates the criteria stated herein. Any dispute, controversy or claim arising out of or relating to the Sweepstakes, or an entrant's participation therein, or the use of any material, or these Official Rules, shall be governed by the laws of the State of which the property is located without regard to choice-of-law rules or principles. In the event of a dispute involving the identity of an entrant who submitted a submission, the submission will be deemed to be submitted by the natural person whose name the SMS capable handset associated with the winning entry is registered in at the time of entry. Proof of such account information may be required before a winner's identity is deemed verified and a Prize is awarded
3. Entrant release and agree to hold harmless Glimcher property, Glimcher Development Corporation, Merchants Association, and their respective parent companies, affiliates, subsidiaries, promotion/marketing/public relations agencies and the directors, officers, agents, shareholders, representatives, employees, successors and assigns of any of the above entities (the "Protected Parties"), from any and all liability associated (directly or indirectly, in whole or in part) with the entrant's participation in the Sweepstakes or any Sweepstakes-related activity and receipt, acceptance, possession or use/misuse of the Prize. By accepting the Prize, winner grants Sponsor (and its respective designees) the right to print, publish, broadcast and use, worldwide in any media now known or hereafter developed, including but not limited to the world wide web, at any time or times, the winner's name, portrait, picture, voice, likeness and biographical information as news or information and for advertising, trade and promotional purposes without additional compensation, and without review, approval or further notice.
4. Non-Eligibility: Employees and the immediate families of employees of Glimcher, its parent(s), affiliates, subsidiaries, advertising and promotion agencies, wholesale distributors, and individual retail tenants are ineligible. This Sweepstakes is subject to federal, state and local regulations. Taxes, if any, are solely the responsibility of the winner.
5. Release: By accepting a prize, winner agrees to release and hold Sponsor and its agencies harmless from all losses, damages, rights, claims and actions of any kind resulting from acceptance, possession or use of any prize, including without limitation, personal injuries, death and property damage. By participating in this Sweepstakes, participant agrees to be bound by all the Official Rules of this Sweepstakes.
Limitations of Liability: Participation is subject to the Privacy Policy of Glimcher and the property No responsibility is assumed by Sponsor (or its agents) for lost, late, incomplete, irregular, damaged, misdirected or illegible entries/submissions; or for any computer, telephone, cable, satellite, network, electronic or Internet hardware or software malfunctions, failures, connections, availability or garbled, jumbled, inaccessible or corrupted transmissions, service provider/internet/web site/use net accessibility or availability, traffic congestion or unauthorized human intervention. Sponsor is not responsible for any incorrect, incomplete or inaccurate information, whether caused by web site users or by any of the equipment or programming associated with or utilized in the Sweepstakes and assume no responsibility for any error, omission, interruption, deletion, defect, delay in operation or transmission, communications line failure, theft or destruction or unauthorized access to any website. Sponsor is not responsible for injury or damage to entrants' or any other person's computer (including data/information stored thereon) related to or resulting from participating in this Sweepstakes or downloading/uploading materials from/to any website. Should Sponsor determine in its sole discretion that an entrant (or other individual) has tampered with the Sweepstakes in any manner, such entrant's submission will be disqualified (if applicable) and Sponsor may seek additional remedies/redress to the full extent as allowed by law. Persons who tamper with or abuse any aspect of this Sweepstakes, or act in violation of the Official Rules, or act in any manner to threaten or abuse or harass any person, or violate these terms of service, as solely determined by the Sponsor, will be disqualified. Neither Sponsor nor its agencies are responsible for any incorrect or inaccurate information whether caused by website users, tampering, hacking, or by any of the programming or equipment associated with or used in this Sweepstakes, and assumes no responsibility for any errors, omission, deletion, interruption or delay in operation or transmission or communication line failure, theft or destruction or unauthorized website access.
Force Majeure: If, for any reason, the Sweepstakes (or any part thereof) is not capable of running as planned by reason of infection by computer virus, worms, bugs, tampering, unauthorized intervention, fraud, technical failures, fire, flood, storm or other natural cataclysm, riot, strike, civil commotion, governmental regulation or any other causes beyond the control of Sponsor which, in the sole opinion of Sponsor, corrupt or affect the administration, security, fairness, integrity or proper conduct of the Sweepstakes (or any part thereof), Sponsor reserves the right at their sole discretion to cancel, terminate, modify or suspend the Sweepstakes and conduct the judging and select the prize winner in a manner which is fair, equitable and in accordance with these Official Rules, as determined by Sponsor in its sole discretion. Notice of such action will be posted on Glimcher. Failure of Sponsor to enforce any provision of these Official Rules shall not constitute the waiver of such provision.
Indemnification: Each entrant shall indemnify, hold harmless and defend the Protected Parties against all Losses incurred in any claim brought against the Protected Parties alleging that, the such entry infringes, violates or misappropriates any copyright, trademark or any other intellectual property rights. Such entrant at its sole cost, shall indemnify and defend the Protected Parties and hold the Protected Parties harmless against such claim, perform any negotiations for settlement or compromise of such claim, and pay any and all settlements reached and/or costs and damages incurred in connection with such claim, together with reasonable attorneys' fees. For purposes of this provision, "Claim" means any civil, criminal, administrative, or investigative claim, demand, action, or proceeding (including arbitration) asserted, commenced or threatened against a person, and "Losses" means all judgments, awards, settlements, liabilities, damages, liens and claims, and all related costs, expenses and other charges suffered or incurred as a result of or in connection with a Claim, including reasonable attorneys' fees and disbursements, costs of investigation, litigation, settlement and judgment, and any taxes, interest, penalties and fines with respect to any of the foregoing.
Publicity: Except where legally prohibited, by entering winner grants permission for Sponsor and its agencies to use his/her name, photograph, voice and/or likeness, for advertising and/or publicity purposes without further consent or additional compensation.
Winner List: For a list of winners, send your name and complete address with a written request for receipt within thirty days of the winner announcement date:
Enter to win, Glimcher Properties, Merchants' Association
Sweepstakes Official Rules Request: please visit the Glimcher Property's Management Office. Need more help? Call 606.325.9570 ext 7325.

DASH Oil and Spice Emporium Grand Opening!
October 31st
DASH Oil and Spice Emporium is a unique shopping experience. DASH carries high quality flavored olive oils, aged balsamic vinegars and exotic spices. The dedicated and knowledgeable staff is committed to making your shopping experience a pleasure. DASH also offers exclusive pastas and teas. Make a lasting impression with gifts designed to thrill your recipient! DASH products are perfect for any food lover. Please join us for the Grand Opening October 31st!
Located next to American Eagle Outfitters across from the food court.

Sports Authority Grand Reopening
Saturday, November 8th starting @ 8am
Join Sports Authority as they show off their newly remodeled store on November 8th starting @ 8am.
EARLY BIRD GIVEAWAYS:
Seattle Seahawks Poncho - First 200 customers (NO PURCHASE NECESSARY)
Seattle Skyline Socks - First 100 Customers (NO PURCHASE NECESSARY)
Seattle Seahawks License Plate Frame - First 200 customers to make a $75 qualifying Purchase
ENTER FOR YOUR CHANCE TO WIN:
Two Club-Level Seattle Seahawks Tickets (Saturday November 8th from 8am-10am, Must be present at 10am to win. One winner will be chosen per Sports Authority location. Must be 18+ to enter, One entry per person. No purchase necessary)
Trip for two to see the Seattle Seahawks play in Arizona (Two grand prize winners will be chosen. Open to WA residents 21+. Saturday, November 8th ONLY. See store for details and official rules. No purchase necessary)
TaylorMade or Callaway Driver (You could win a TaylorMade SLDR or JetSpeed driver or a Callaway Big Bertha or X2 Hot Driver. Saturday, November 8th only, no purchase necessary, one entry per person)
$500 Shopping Spree ( Enter November 8th & 9th. One winner will be chosen at every location. No purchase necessary, one entry per person)
$100 Gift Card (Given away every hour on Saturday November 8th 9am-6pm ONLY. No purchase necessary, see store for details, one entry per person)
PLUS, MEET THE PROS:
Meet Seahawks player Walter Jones Saturday Nov. 8th 1:30pm-3pm
FOR MORE GRAND REOPENING DETAILS VISIT A SPORTS AUTHORITY LOCATION OR VISIT sportsauthority.com/seattle)
Magical Night of Giving
Sunday November 16th - 6:30pm-10:30pm
Magical Night of Giving
Sunday November 16th, 2014
6:30pm-10:30pm
Each year, The Outlet Collection hosts an event called Magical Night of Giving. This event is our official kick-off to the holiday season and an opportunity for guests to enjoy an evening of exclusive savings throughout the mall, prize giveaways and holiday entertainment. The Outlet Collection joins with local non-profit organizations that support this community event by selling tickets, for which they keep 100% of the profits. To see a list of 2014 non-profits that are selling tickets CLICK HERE.
For a list of event exclusive store offers CLICK HERE
For a list of event entertainment CLICK HERE

Sensitive Santa
Sunday, December 7th from 8am-11am
This special time to visit Santa is reserved for children with Autism.
The Outlet Collection will make its Santa area "sensory friendly" with lower lighting and quieter surroundings.
Each family who attends will receive a free Santa photo and enjoy festive giveaways to commemorate this magical holiday season.
If you, or someone you know has a child that would enjoy this wonderful event, contact Chantelle Herburger @ Cherburger@Glimcher.com to RSVP or request more information.
Also, we encourage you to share this information with educators, social workers, or medical professionals who work with children with Autism. Help us spread the word about this wonderful event.
Ann Taylor Factory Store
Ann Taylor Clearance Sale!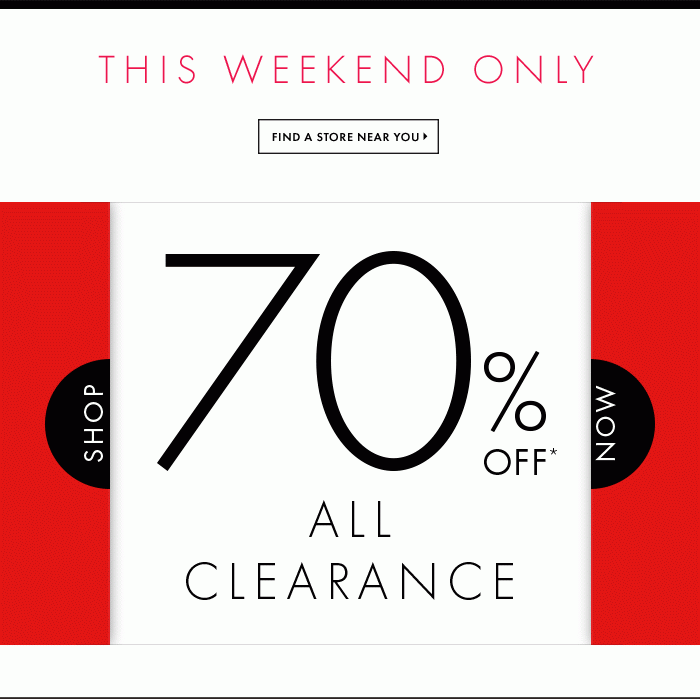 70 % off all Clearance Items!

Reduction is taken at checkout. Taxes, purchases of gift cards, and payment of an Ann Taylor or LOVE LOFT Credit Card are excluded from any discount. Not valid at Ann Taylor stores, LOFT stores, LOFT Outlet stores, anntaylor.com, LOFT.com or in conjunction with any other offer. No adjustments to prior purchases. Not valid for cash. Promotion is subject to change at any time without prior notice. Visit an Ann Taylor Factory Store for more details.
Brooks Brothers Factory Store
Brooks Brothers Flannel Shirt & Sweater Sale!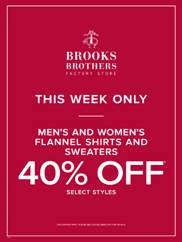 This Week Only Event!
Men's & Women's Flannel Shirts and Sweaters 40% off*
*Exclusions apply. Please see a Sales Associate for details.
[More...]
Carter's Childrenswear
Carter's Rewards!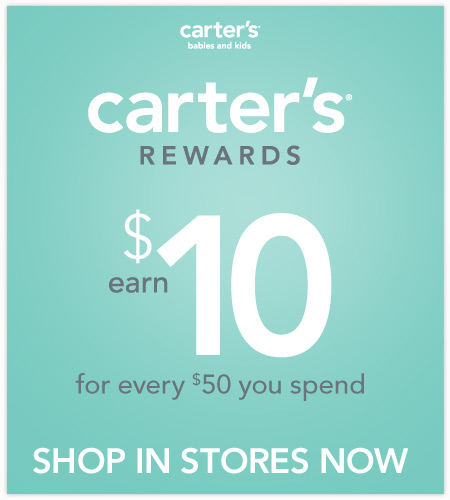 Carter's Rewards:
Earn $10
for every $50 you spend!
Shop in stores today!
Chico's Outlet
Senior Discounts every Tuesday!

Stop in at Chico's Outlet!
Senior day is every Tuesday!
Receive 10% off the entire purchase for Seniors!
[More...]
Guess Factory
GUESS Essentials!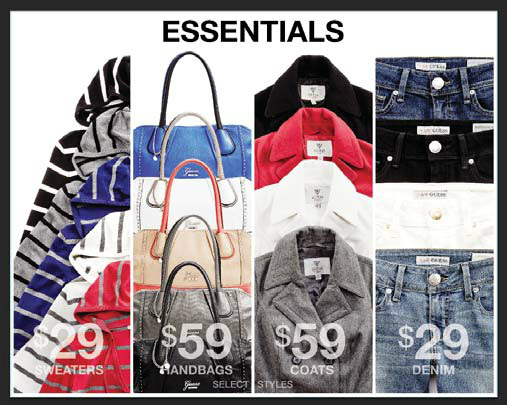 Essential Sweaters $29
Essential Denim $29
Essential Coats $59
Essential Handbags $59
Take An Additional 50% Off
[More...]
OshKosh B'Gosh
OshKosh B'gosh Sale!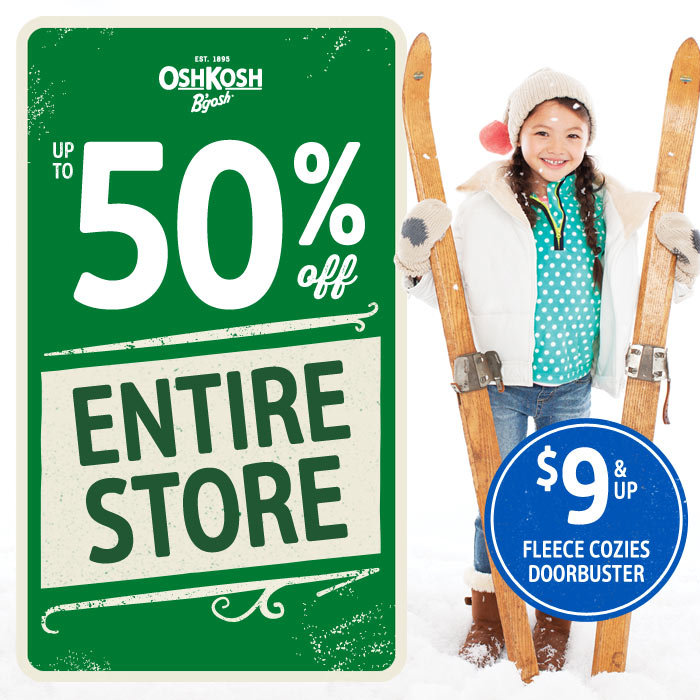 Up to 50% off the entire store!
$9 and up fleece cozies doorbuster!
Villa Fresh Italian Kitchen Pizza
Villa Italian Kitchen Sale!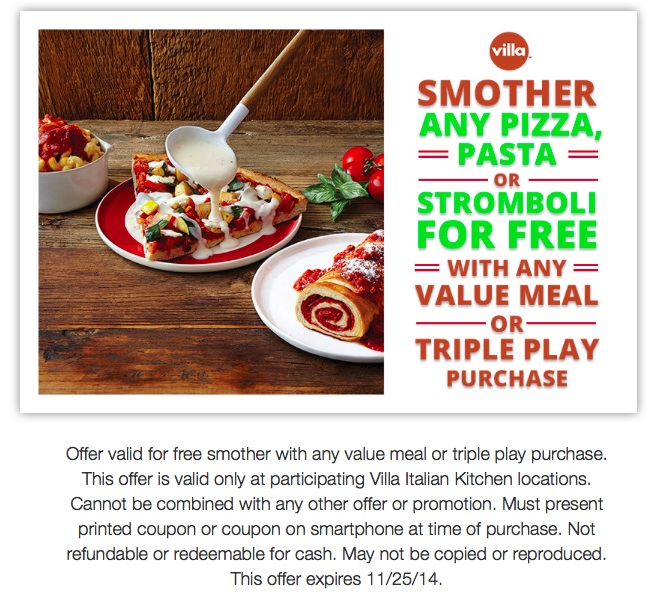 Feeling saucy? Head to Villa Italian Kitchen and smother any pizza, pasta or stromboli for free with any value meal or triple play purchase!
Grab your coupon NOW online at http://on.fb.me/178L5YC
Vitamin World
Women's Health Sale!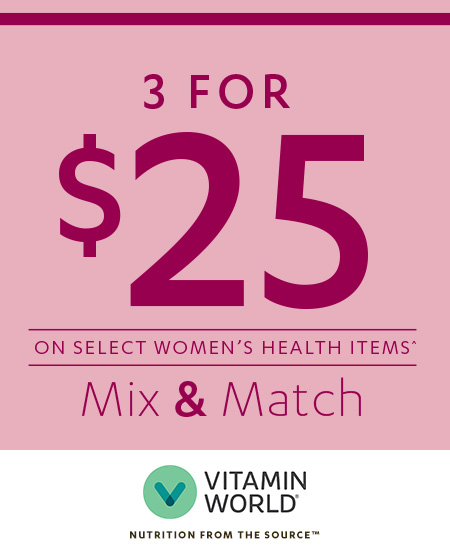 Start Date: 10/1/14
End Date:  10/31/14
Offer: Women's Health Savings- 3 for $25
Disclaimer: Valid for Savings Passport members only on all Quick Dissolve items. Buy 1 item at regular price and get the 2nd item Free; Mix and Match Free item must be of equal or lesser value.
Cannot be combined with other offers; not valid on prior purchases. Other exclusions may apply; while supplies last; see store associate for details.

[More...]
Wilsons Leather
Wilsons Leather Sale!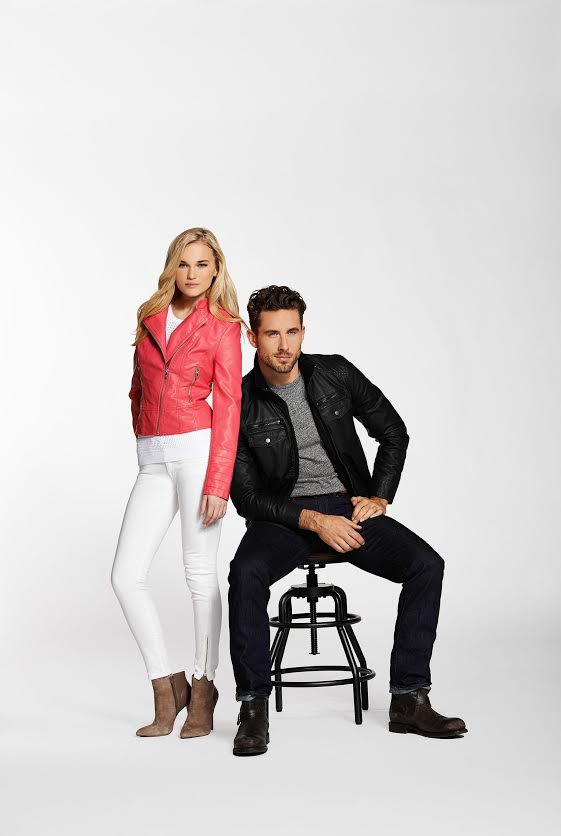 Up to 60% Off Handbags and Outerwear with an Additional 40% Off Select Styles!

Sign Up For Our Newsletter!